''With the 332nd Regiment In Italy - Comics and Sketches By Reinert"

Original and very hard to find booklet sketchet by Private Fred G. Reinert, Company B, 332nd Infantry Regiment. The booklet documenting Reinert's experiences with the 332nd Infantry Regiment in Italy from 1918 to 1919. Excellent and entertaining illustrations throughout. Self-published by Reinert, Cleveland, Ohio, 1919, hardcover.

The 332nd Infantry Regiment having served as the only American Regiment in Italy and earning the rare Vittorio-Veneto Battle Clasp for the World War One Victory Medal. The 332nd was part of the 83rd Division and most of the members were from Ohio.

| | | |
| --- | --- | --- |
| | | |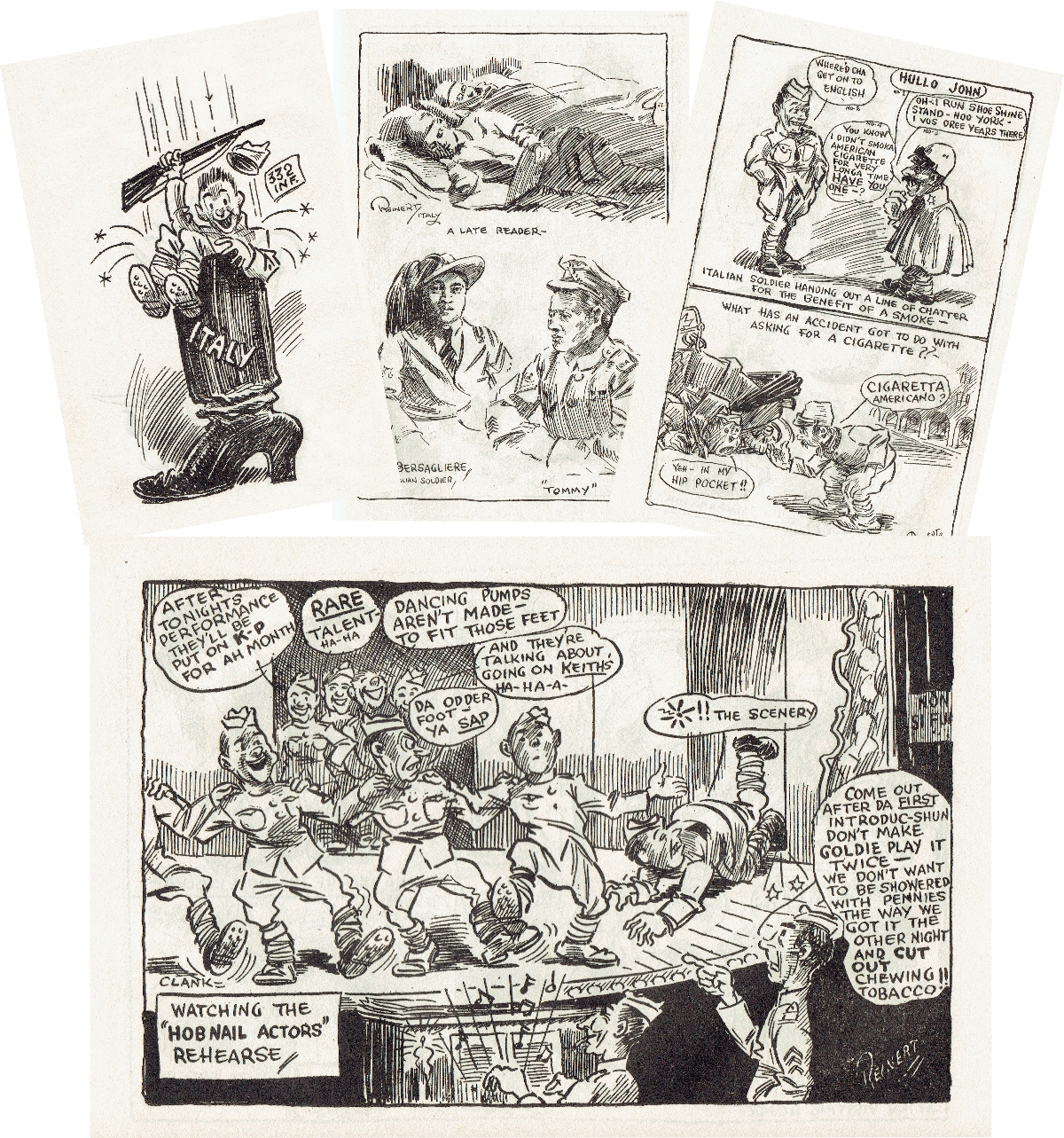 FREDERICK GEORGE REINERT was born on March 21, 1895, in Cleveland, Ohio to Jacob and Mary (Knopp) Reinert.
Fred G. Reinert (#1943983) 22 years old at that time, enlisted in the Army on October 5, 1917 in Cleveland, Ohio and was assigned to Company B, 331st Infantry Regiment. He remained with this unit until he was transferred to Company B, 332nd Infantry Regiment on July 4, 1918. He went overseas with the 332nd arriving in Europe on June 5, 1918. He served in Italy during the Vittorio-Venetto campaign earning a promotion to Private First Class on October 10, 1918. Fred Reinert returned to the US on April 14, 1919 and was honorably discharged on May 2 of that year.

Upon his return to civilian life Fred Reinert became a well-known artist in the Cleveland area. He worked for the Plain Dealer newspaper and in the 1930's came up with the 'Little Indian', a cartoon to accompany the Cleveland Indians scores in the newspaper. The Little Indian became hugely popular and has a big resemblance to Chief Wahoo, the current mascot for the Cleveland Indians. Even though an official connection was never reported by Reinert or anyone else, it seems obvious that Chief Wahoo artist Walter Goldbach was inspired by Reinert's creation.

He married Anita Helen Martens on October 18, 1924.

United States World War II Draft Registration Card 1942, referred to as the "old man's registration", conducted on 27 April 1942, for men born on or between 28 April, 1877 and 16 February, 1897 (age 45-64).

Fred G. Reinert died on September 9, 1974, in Parma Heights, Cuyahoga County, Ohio at the age of 79 and is burried at the Sunset Memorial Park, North Olmsted, Cuyahoga County, Ohio.

| | |
| --- | --- |
| | Fred Reinert, 1962 |

Source Information:
Ancestry.com
Findagrave.com