''83rd World War One Officer Tunics''
These are two World War One Infantry Officer's tunics for a 2nd Lieutenant in the 83rd Division. Both tunics are in good shape and belonged to the same officer.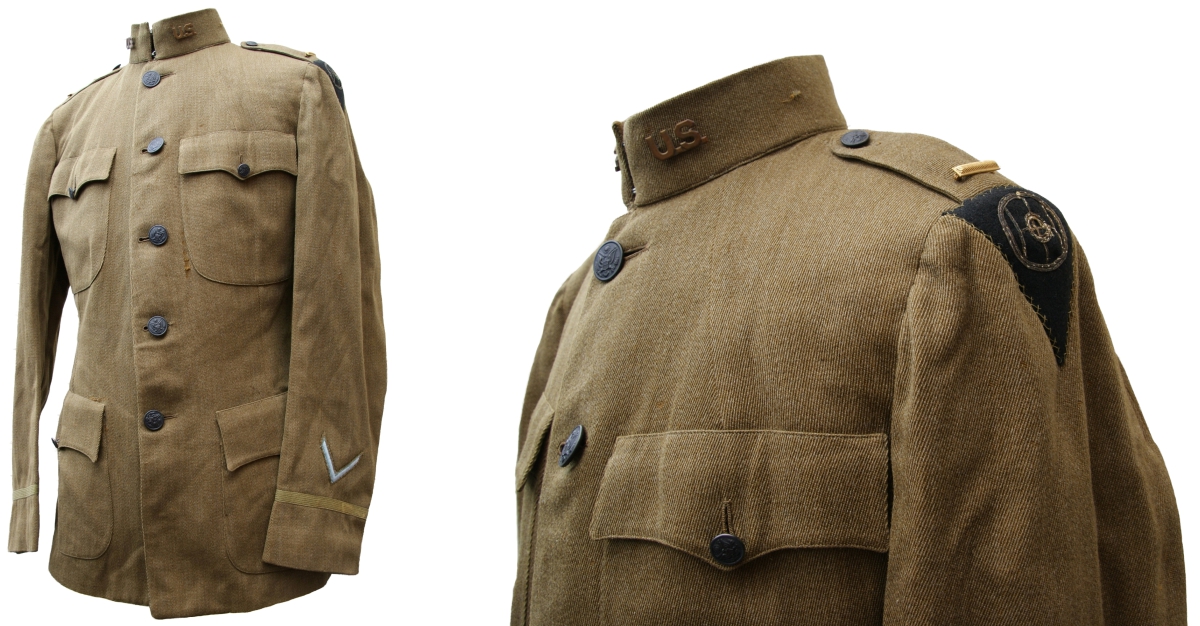 The first tunic was manufactured by Harding Uniform & Regalia Co. in Boston, Ma. The manufacturers tag has a name and date written on it but the name has faded beyond the possibility to read. The date says 3/19/18, presumably this marks the date this tunic was purchased or received by the officer. The pinback US collar devices are still in excellent condition, the same can be said about the false embroidered style 2nd lieutenant bars. On the lower left hand sleeve is a single blue overseas service chevron, embroidered on a green wool base. The blue collar indicates overseas service for a period less than 6 months. On the upper left sleeve is a bullion on wool 83rd Division patch, the highlight of this coat. The patch is in very good condition with no damage.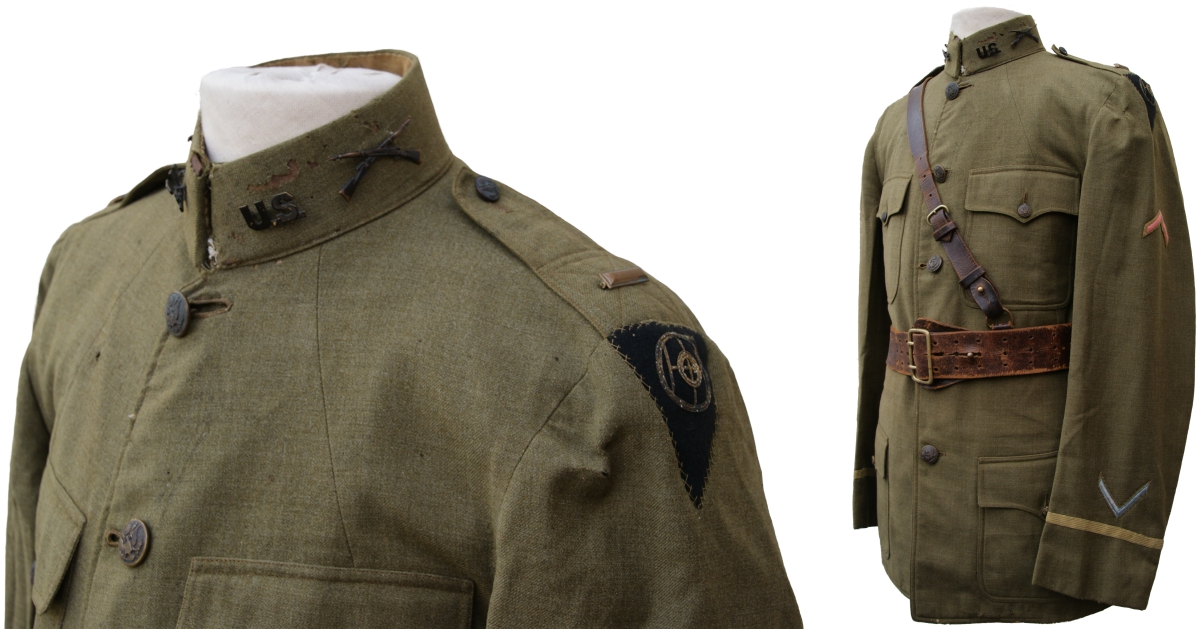 The second tunic was manufactured by W.B. McClurkan & Co., Wichita Falls, Texas. The uniform has some moth damage but the collar devices and 2nd lieutenant bars are still in great condition. The bullion on wool 83rd Division insignia is identical to the one on the other which could be an indication these came from the same man. During WW1 insignia regulations were not common & quality control rather poor. This resulted in many insignia being hand made overseas so identical insignia point to the same manufacturer. On the lower left sleeve there again is a blue overseas service chevron. The upper left sleeve has a red chevron indicating honorable discharge. The Sam Browne belt is there for display purposes and did not come from the same officer.

The Sam Browne Belt is a wide belt, usually leather, which is supported by a narrower strap passing diagonally over the right shoulder. It is most often seen as part of a military or police uniform. During World War I, the Sam Browne Belt was approved by General Pershing, commander of the AEF, for wear by American officers as a rank distinction. The United States Army mandated the Sam Browne belt for overseas soldiers in 1918 under the name "Liberty belt".