''83rd World War One Uniform Grouping''
This is a beautiful WWI Uniform group named to George Arbogast, a Sergeant of the 83rd Infantry Division during World War One. It contains his Jacket, his Overcoat and his pants. Both, the Jacket and the overcoat have beautiful gold Bullion ribbon patches on the shoulder, one overseas stripe, a honorable discharge stripe and sergeant stripes. The jacket has an HQ Infantry Collar disk. There is a depot tag of March 1918 inside the pocket of the jacket but I could not find one on the overcoat, but there is a faint US stamped in the back.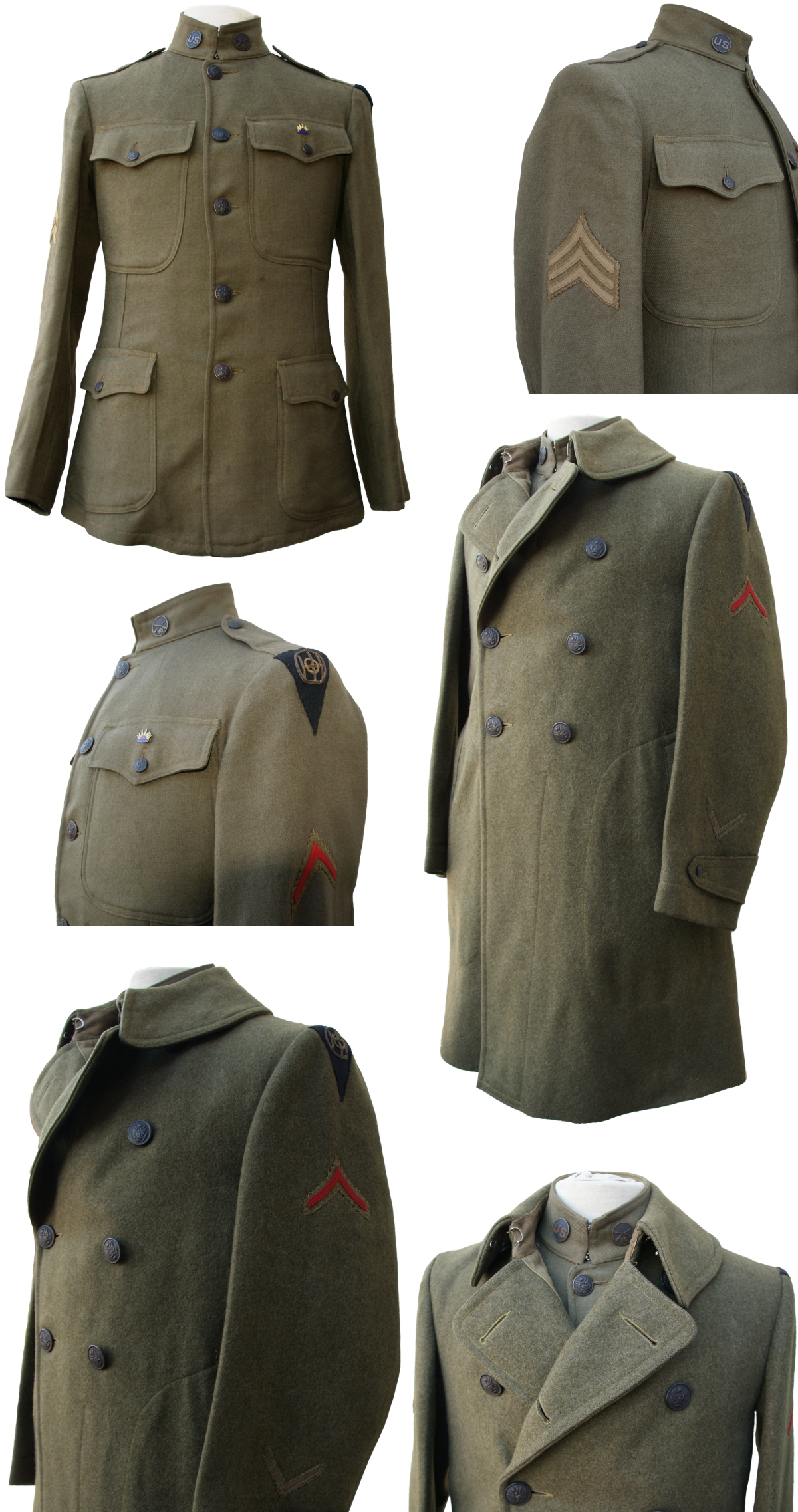 The tunic is a nice example of an M1917 tunic manufactured by C Austern Co, NY March 27, 1918. The M1917 tunic was the most common style of tunic worn during WW1 as opposed to the lesser used M1912 and M1918 types. This tunic has a nice bullion on wool 83rd Infantry division patch, one honorable discharge and one service chevron on the left sleeve. An unidentified pin can be found on the left breast pocket. The insignia on the collar are a US disk and Infantry crossed rifles with HQ.


The overcoat is a style M1917 overcoat. During WW1 two types of Overcoats were introduced and dubbed M1917 and M1918. The most important differences between the M1917 and M1918 models is the absence of the button cuff tabs and shorter length. Similar to the tunic, the overcoat has a bullion on wool 83rd patch, honorable discharge chevron and overseas service stripe on the left sleeve. All insignia and placement are identical to that of the tunic.

George John Arbogast was born on April 23, 1896 in Middleboro, Ohio to German immigrants Wilhelm Arbogast (1854 - 1929) and Elizabeth Blum (1858 - 1943) who immigrated to the United States in 1880 and married in 1884.

George J. Arbogast (#1938990), 21 years old at that time, entered the service with the National Army on October 3, 1917 and promoted to Corporal on December 17, 1917. He went overseas with the American Expeditionary Forces (AEF) from June 12, 1918 till January 30, 1919 where he reached the rank of Sergeant on July 11, 1918. He was assigned to Headquarters Company of the 330th Infantry Regiment, 83rd Division until he was honorably discharged on February 13, 1919.




After World War One, on september 18, 1919, George Arbogast was married to Ella E. Arbogast and they lived in Cincinnati, Ohio.

United States World War II Draft Registration Card 1942, referred to as the "old man's registration", conducted on 27 April 1942, for men born on or between 28 April, 1877 and 16 February, 1897 (age 45-64).


George Arbogast died on March 8, 1988 and is buried, together with his wife Ella, at the Edwardsville Cemetery, Edwardsville, Warren County, Ohio.