On June 7, 2008, I had the honor to meet Bob at the ceremony on the Place de l'eglise, Sainte-Mère-Église, Normandy, France.

October 3, 2008, Mr. Murphy passed away.
R.I.P. sir
Lest we forget… this extraordinary man!
In memoriam
Robert M. MURPHY
Col. Combat veteran of 505th PIR with 3 combat jumps
Born on 7 july 1925 - Died on 3 october 2008
SOUTH DENNIS — Colonel Robert M. "Bob" Murphy of South Dennis and Bonita Springs, Florida, passed away peacefully on Friday, October 3, 2008, at Cape Cod Hospital, surrounded by his loving family
He was predeceased by his beloved wife of 35 years, Barbara (Atwood) Murphy (2002), and his former beloved wife of 16 years, Joanne (Murray) Murphy (1962).

Bob was born on July 7, 1925, in Boston to Joseph and Anna Murphy, brother to Steven Murphy, and sister Virginia (Murphy) Healy, and predeceased by his brother, Walter Murphy.

Pvt. Murphy lied about his age of 16 to join the Army. Robert joined the Army on Oct. 1, 1942, serving in World War II with the 82nd Airborne in Italy, Holland, Africa and Normandy, France.
He received the Purple Heart (3), Valor (2), Bronze Star, Medal of Honor, and the highest honor given by France, "The Legion of Honor."
At 17 made his first combat jump at Salerno. On the night of 5 / 6 june 1944 was one of the first groups of Americans to land in Normandy as a Pathfinder.
Bob Murphy was a proud member of the Ancient and Honorable Artillery Company of Boston, Ma. He is the author of the book "No Better Place to Die" depicting D-Day, June 6, 1944 in Saint-Mere-Eglise, Normandy, France, where Bob had returned to in the 60's to continue skydiving with his veteran friends, as well as, the airborne divisions of France and Canada. He celebrated and honored the events of D-Day his entire adult life keeping alive the memory and importance of this historical time for he and his brothers in arms along with his adopted family of Normandy, France.
His legacy and his love for living life to its fullest will be remembered and carried on by all those who were lucky enough to have had him in their lives. He will always be a hero, a warrior, and a legend to his country, family and friends. The world is a better place for having had Bob Murphy in it. Geronimo!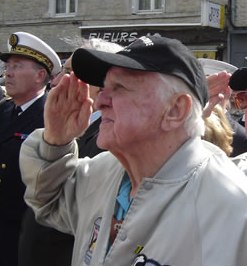 Sainte Mere Eglise, 64 years later