Squadron Leader Geoffrey H. Wellum

During Memorial Day of the 73rd Anniversary of The Battle of Britain on July 14, 2013, I met Geoffrey Wellum who served during World War Two in 92 Squadron of the Royal Air Force.

No. 92 Squadron, also known as No 92 (East India) Squadron, of the Royal Air Force was formed as part of the Royal Flying Corps at London Colney as a fighter squadron on 1 September 1917. It deployed to France in July 1918 and saw action for just four months, until the end of the war. During the conflict it flew both air superiority and direct ground support missions. It was disbanded on 7 August 1919.

During World War Two, the Squadron was reformed on 10 October 1939, the unit was supposed to be equipped with medium bombers but in the spring of 1940 it became one of the first RAF units to receive the Supermarine Spitfire.

Geoffrey Wellum was born in Walthamstow on August 4, 1921. He joined the RAF straight from school, aged only 17, reporting for duty on 28th July 1939, a few weeks before war was declared. Having completed his ab-initio pilot training on DH82 Tiger Moths and his advanced pilot training on Harvards, he was posted to No 92 Squadron at Northolt, arriving on 22nd May 1940 along with another young Acting Pilot Officer straight out of training, Trevor ('Wimpey') Wade. Geoffrey had a grand total of 168 hours flying training behind him (95 hours solo) and was still only 18 years and 9 months old. He had never even seen a Spitfire close up, let alone flown one!

Geoffrey H. Wellum

A Spitfire of the 92 Squadron (1941)


Flight Lieutenant Brian Kingcome (left), commanding officer of No. 92 Squadron Royal Air Force and his wingman, Flying Officer Geoffrey Wellum, next to a Supermarine Spitfire at RAF Biggin Hill, Kent, 1941.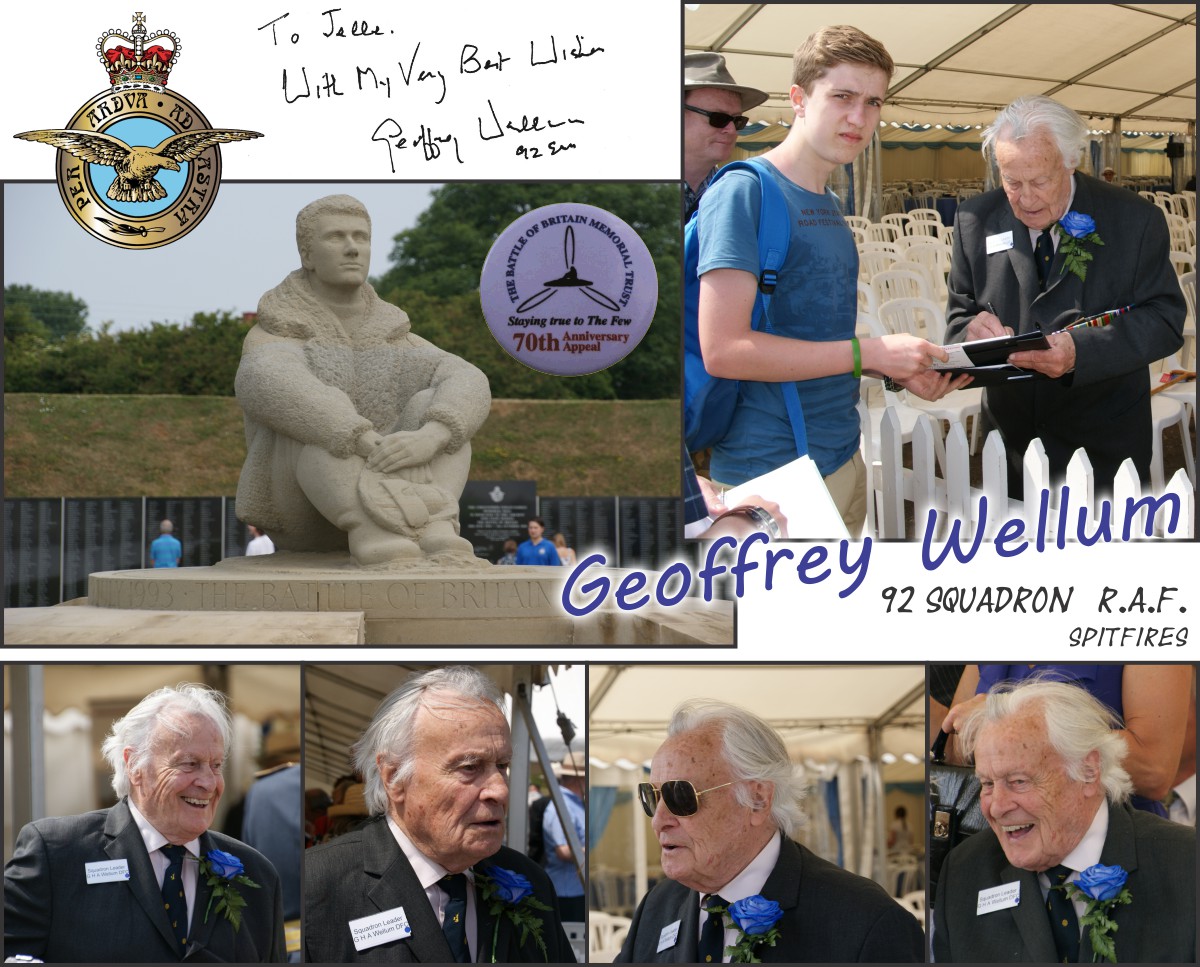 Thanks Mr. Wellum, It was nice to meet and talk with you.
Tom's Medals and Awards

- Distinguished Flying Cross with second award bar
- Air Force Cross
- 1939-1945 Campaign Star with Clasp 'Battle of Britain' for Fighter Aircrew
- Air Crew Europe Campaign Star
- Africa Campaign Star
- Burma Campaign Star
- Defense Medal
- War Medal
- Air Efficiency Award
- US Bronze Star Medal
- Malta George Cross Fiftieth Anniversary Medal