1st Lt. Elwood Malcolm Strom, 102nd Evacuation Hospital

On my US trip in August 2012, I met Malcolm Strom, together with my friend Jim Sharp at the Sadle Rock Cafe, August 15, 2012.

Malcolm Strom, was born in Dwight, Kansas on March 24, 1918. He grew up there, worked on the farm and went to Kansas State at Manhattan in 1935, graduating in 1939. He did work for a while for the Union Central Life Insurance Company in Topeka while in the maintime he was trying to get in the Army, wich he finally did on December 7, 1941. He reported for duty at Fort Leavenworth, stayed there and did not go to a training camp as most did. He was assigned to the Medical Section where he remained until February 1942. He was send to Abilene, Texas for Officer Candidate School (OCS) and became a shave tail (the term "shave tail" was coined during WWI. When a promotion was made to a second lieutenant in the field, epaulettes for the shirt were made by cutting a piece from the shirt tail.) Everybody who graduated became a member of the Medical Administration Corps. Malcolm Strom was assigned the the 102nd Evacuation Hospital being developed in California where they took training and maneuvers at the Mohave Dessert.
On December 18, 1942 he married with Eddith Kelley. In April 1943, he got orders to go overseas. Malcolm left New York, as a unit, on April 6, 1943, and went to England, where ther for three months and in July he left for Normandy, France. His unit was send to Brest for six weeks, untill Brest had fallen. They were shipped all the way across France and actually camped at Bastogne in November, 1944. From there they were moved to Ettlebruck, Luxembourg in support of the 28th Infantry Division. That is where they were on December 16, 1944 when the Battle of the Bulge really began. At the time of December 18, the 102nd Evac. Hosp. remained in Huy during the duration of the Battle of the Bulge. The hospital was set up in the elementary school of Huy. From the Bulge the 102nd went into Germany and stayed a short time in Brand, just outside of Aachen. The next order was to go to Bad Neunahr, just west of the Remagen Bridge. They crossed the Rhine River at Remagen using pontoons and continued northeast to Gera, about 40 miles from the Czech border, and they where still there when on May 8, 1945 the war was over.
Malcolm Strom get home until around December 1, 1945. For Malcolm, the war was over for a little while. He arrived in New York and took the train to Fort Smith, Arkansas wher his wife Edith met him. After receiving his discharge a recruiter signed him up for the Reserves.

A few years later, Malcolm got called up because of the Korean War. He was in the service about 18 months but first he was assigned to a training company at Fort Meade, Maryland. Finaly he was called to go to Korea and was ther for 8 months in 1952.

For his service in World War Two, Malcolm Strom was awarded the American Theater Medal, the European African Middle-Eastern Campaign Medal with one Silver Campaign Star (for 5 Campaigns), WW2 Victory Medal.

Thanks Malcolm, It was nice to meet and talk with you, and thanks for the book.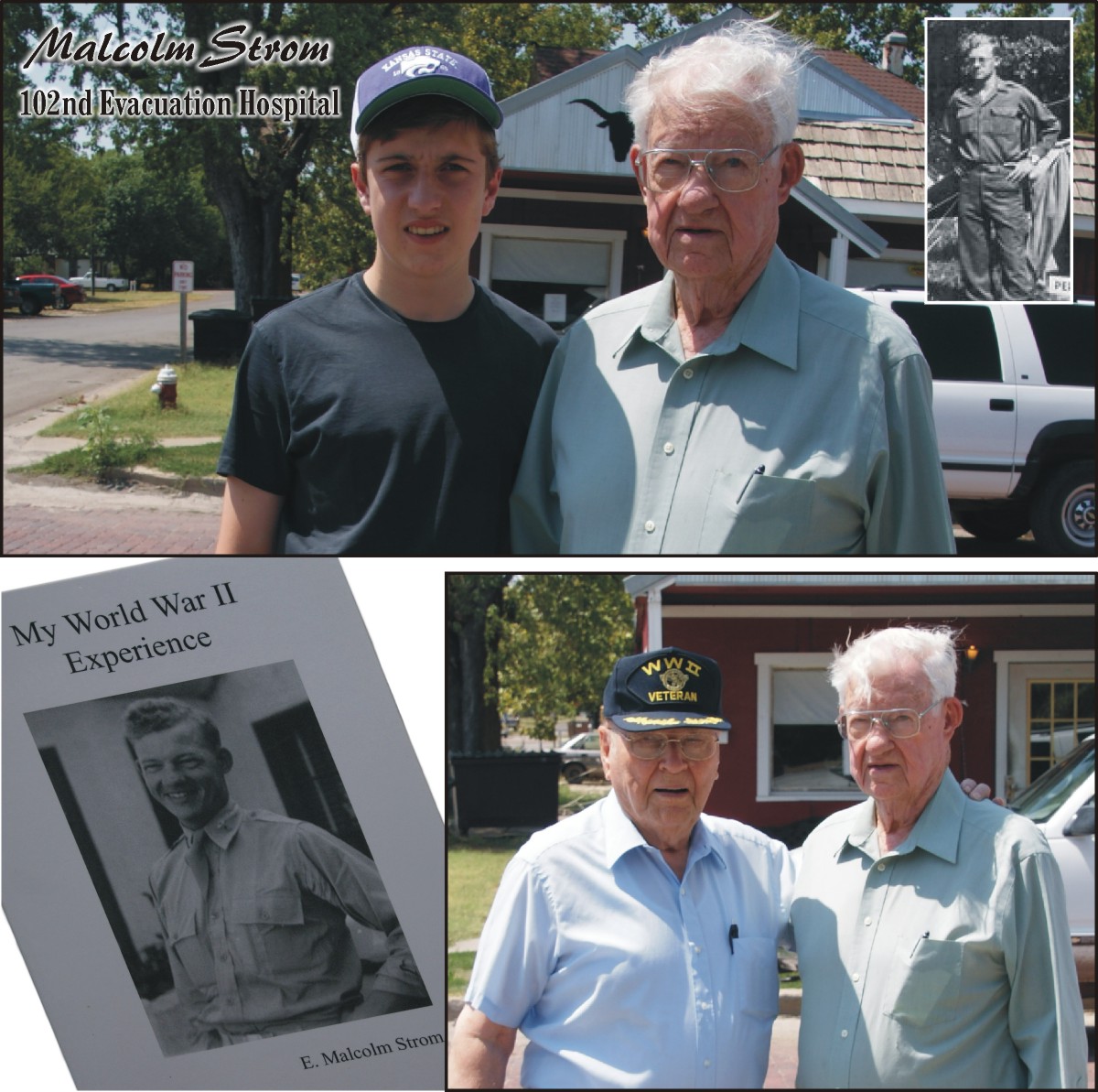 | | |
| --- | --- |
| | Jim Sharp and Malcolm Strom |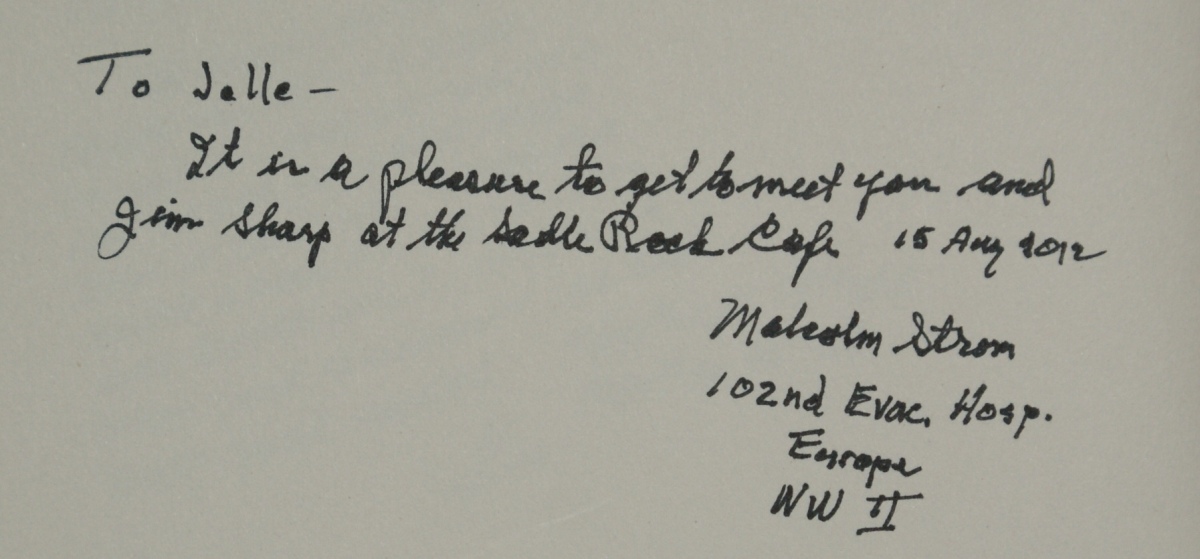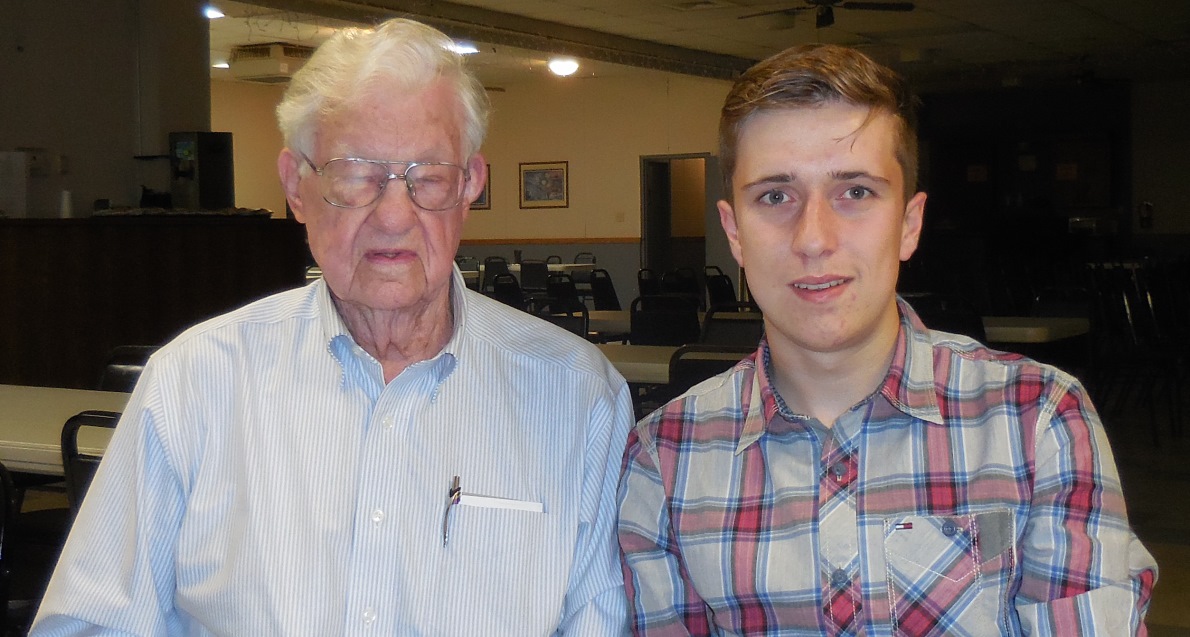 I met Malcolm again on my trip to the US in August 2014