Squadron Leader Nigel Rose

During Memorial Day of the 73rd Anniversary of The Battle of Britain on July 14, 2013, I met Nigel Rose who served during World War Two in 602 Squadron of the Royal Air Force.

| | |
| --- | --- |
| | No. 602 Squadron, also known as No 602 (City of Glasgow) Squadron was formed on 12 September 1925 at Renfrew as a day bomber unit of the Auxiliary Air Force. In 1933 602 Squadron moved to a purpose built airfield at Abbotsinch. This is now Glasgow International Airport. On 1 November 1938 No 602 was re-designated as an army co-operation squadron, then on 14 January 1939 602 became a fighter squadron. During the early months of the war the squadron was engaged in intercepting German bombing raids from its base at RAF Drem near Haddington. During the Battle of Britain, 602 Squadron was moved south to Westhampnett, a satellite airfield of RAF Tangmere, joining 11 Group, which controlled the South East and London, and which took the brunt of the Luftwaffe's attacks. |

Nigel Rose was born on June 21,1918 and was a trainee quantity surveyor when he joined the Royal Air Force Volunteer Reserve at Southampton in December 1938 as an Airman u/t Pilot (742683). He began his flying training at 3 E&RFTS, Hamble and had logged 87 hours before being called up at the outbreak of war.

On November 22, 1939 Rose went to No 1 ITW, Cambridge and was posted to 14 FTS, Kinloss on February 3, 1940, moving to 14 FTS, Cranfield on April 19.

With training completed on June 17, he was commissioned and joined 602 Squadron at Drem the next day. Over the next few months Rose claimed a Bf 110 destroyed and he shared a Bf 110. He was injured but returned to flying a month later and claimed a Bf 109 destroyed on October 29.

He was posted to 54 Squadron at Hornchurch in September 1941. Tour expired, he went to 57 Operation Traing Unit (OTU), Hawarden on November 12, 1940 as an instructor. Rose was sent to CFS, Hullavington on November 11,1942 for a course, returning to 57 OTU, then at Eshott in February 1943. The following June he went to CGS, Sutton Bridge for a gunnery instructor's course and returned to 57 OTU in July.

Rose was posted to 15 APC, Peterhead on January 10, 1944, moving later to 14 APC, Ayr. He went to the Middle East on 1st July, to BGS, El Ballah. Rose returned to the UK in late May 1945 for a gunnery instructor's course at CGS, Catfoss. He went back to El Ballah in July but returned again to the UK in December and was released from the RAF in February 1946, as a Squadron Leader.

Rose qualified as a Chartered Quantity Surveyor in June 1948.

| | | |
| --- | --- | --- |
| Nigel Rose 1940 | Nigel Rose | Nigel Rose |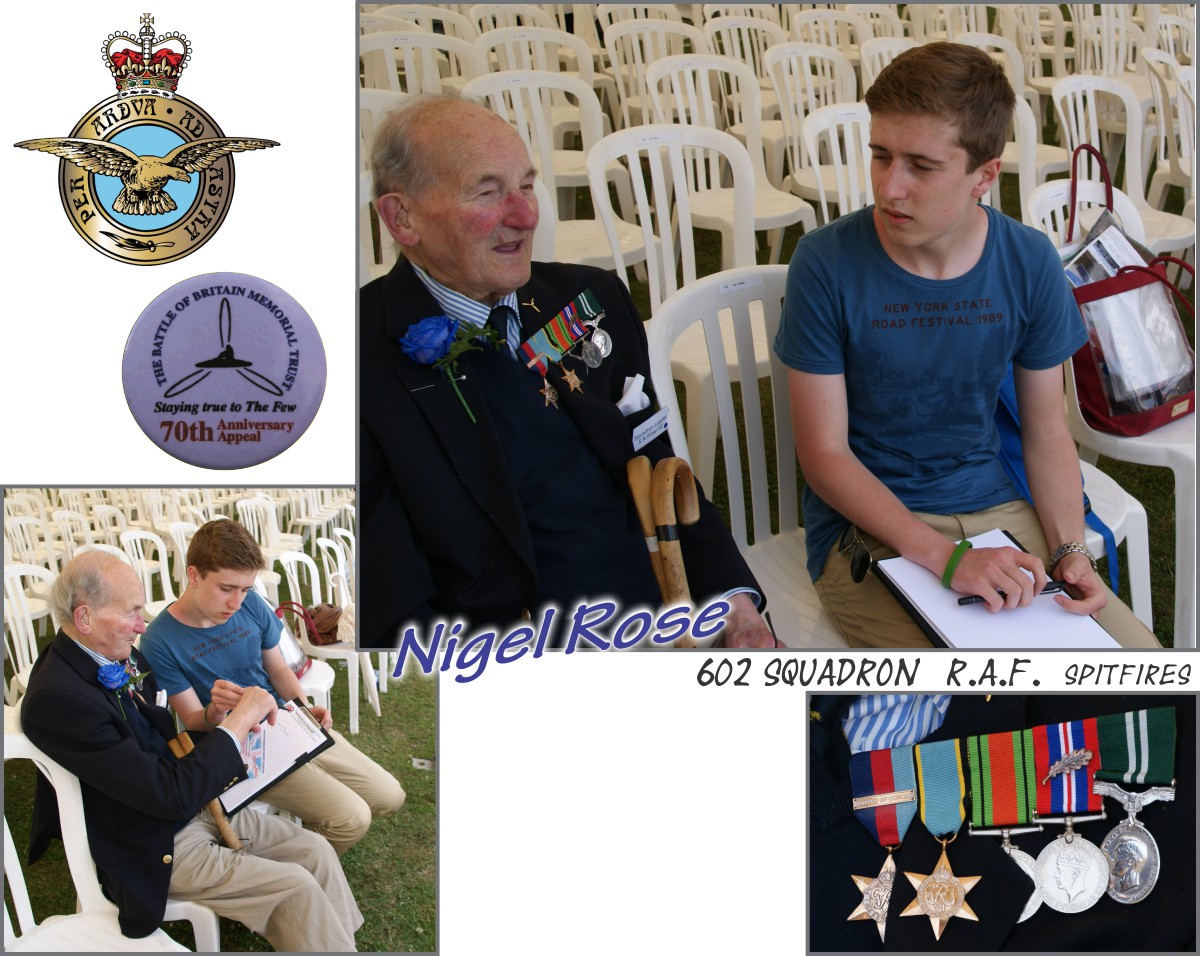 Thanks Mr. Rose, It was nice to meet and talk with you.