Wing Commander Thomas Francis "Tom" Neil

During Memorial Day of the 73rd Anniversary of The Battle of Britain on July 14, 2013, I met Tom Neil who served during World War Two in 249 Squadron of the Royal Air Force.

No. 249 (Gold Coast) Squadron RAF was a RAF squadron, active in the sea-patrol, fighter and bomber roles during its existence.

During World War Two, on 16 May 1940, 249 squadron reformed as a fighter squadron at the Royal Airforce  Station Church Fenton. Equipped with Hurricanes, the unit fought in the Battle of Britain.

Thomas Francis "Ginger" Neil was born in Bootle on 14 July 1920, he had a keen interest in aircraft as a child and played cricket and football for local teams. He attended Eccles Secondary Grammer School where he was awarded an art prize for a drawing of an aeroplane. After taking the School certificate in 1937 he started work at the District Bank in Gorton.

Thomas "Tom" Neil joined the RAFVR on October 17 1938 at the age of 18. Called up at the outbreak of war, he was posted to No.249 Squadron on May 15 1940 at its reformation at Church Fenton where he flew Hurricanes. During the Battle of Britain his first victory was on 7th September, closely followed by a second on 11th September, 3.5 more on 27th September, and another on 6th October. On 8th October he was awarded the DFC, and as his success continued, on 26th November he received a Bar to his DFC.

In May 1941, No.249 Squadron was posted to Malta, flying in from HMS Ark Royal. The Squadron saw almost daily action. Tom Neil claimed another victory in June. He is credited with destroying more than 17 enemy aircraft, the majority of wich he claimed during the Battle of Britain.

He left Malta on December 26th 1941 and returned to the UK, via the Middle East, South Africa, West Africa and Canada, finally arriving at Liverpool in early March 1942.

Attached to the US 9th Air Force's 100th Fighter Wing in 1944, he took part in the invasion of Normandy and remained with the USAAF until the border of Germany. Later he briefly saw action in Burma.

After D-Day Tom Neil did some operational flying in France. He was awarded the US Bronze Star Medal. He was also awarded the Distinguished Flying Cross (DFC) and Bar for valour.

After the war, he spent four years as a Service Test Pilot and has flown more than 100 types of arcraft. He retired from the RAF in 1964 having reached the rank of Wing Commander and worked in America before returning to the United Kingdom. He has written a number of books and articles about his wartime experiences. I got his most recent book "The Silver Spitfire" published in February 2013, the Story of his own Personal Aircraft.

| | | |
| --- | --- | --- |
| | | |
| Thomas Francis "Tom" Neil | Tom Neil is his Hurricane | Tom romanced his wife-to-be Eileen Hampton during the war, while she was in the Women's Auxiliary Air Force. They married in 1945. |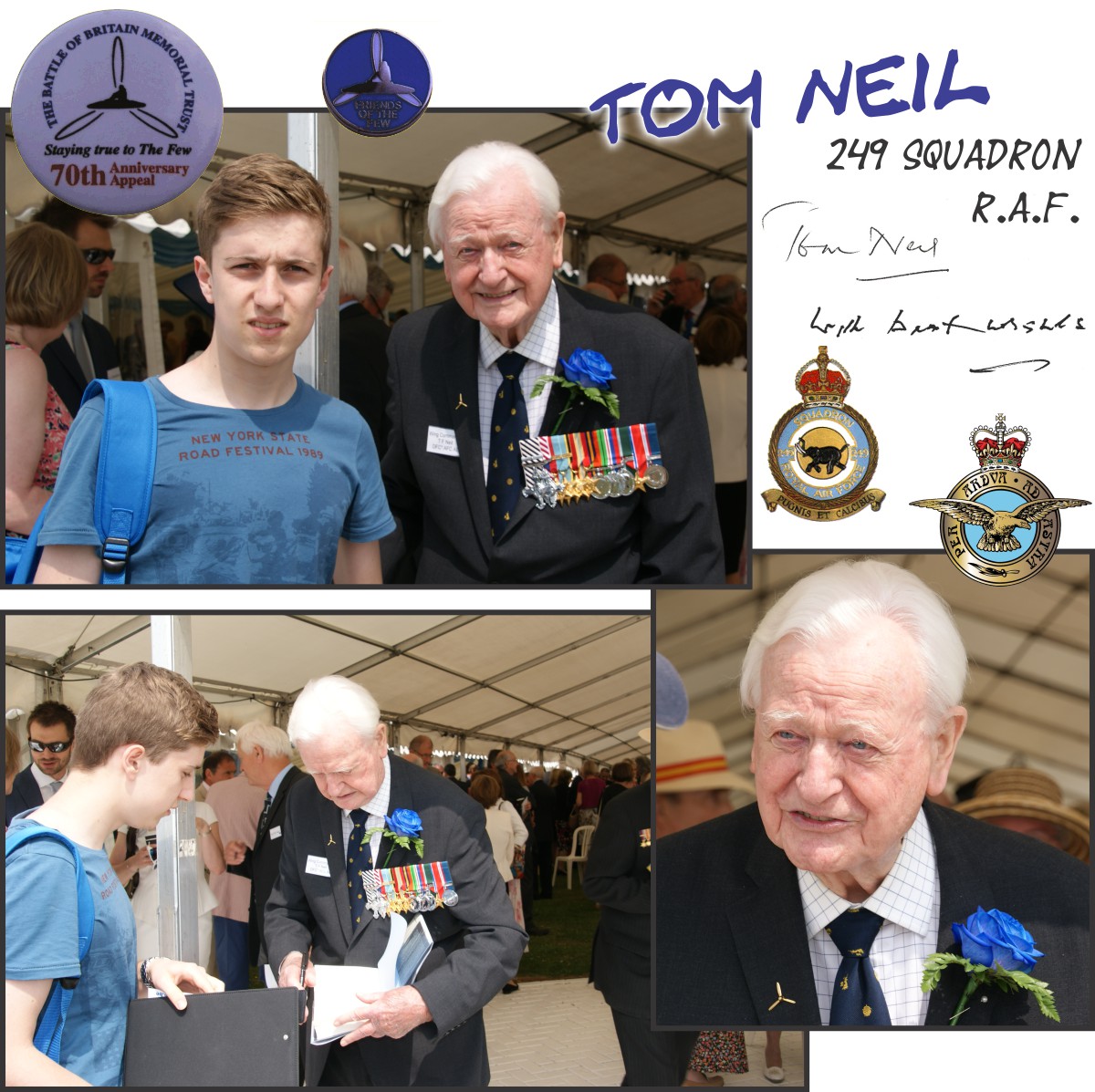 Thanks Mr. Neil, It was nice to meet and talk with you.
Tom's Medals and Awards

- Distinguished Flying Cross with second award bar
- Air Force Cross
- 1939-1945 Campaign Star with Clasp 'Battle of Britain' for Fighter Aircrew
- Air Crew Europe Campaign Star
- Africa Campaign Star
- Burma Campaign Star
- Defense Medal
- War Medal
- Air Efficiency Award
- US Bronze Star Medal
- Malta George Cross Fiftieth Anniversary Medal