Charles T. King (#35516666)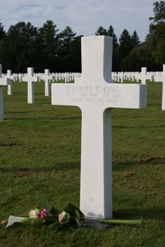 Rank:
Staff Sargeant (S/Sgt)
Unit:
Company C, 329th Infantry Regiment, 83rd Infantry Division

Decorations:
Purple Heart with oak leaf cluster
Henri Chapelle American Cemetery and Memorial:
Plot H, Row 4, Grave 53


About:
Charles T. King was born 1921 in Kentucky to the late Charles T. and Marcha E. King. He had a grammar school education. He lived in Cuyahoga County, Ohio, until he entered the service as a draftee October 13, 1942 in Cleveland , Ohio.
The 1940 Census from Cleveland, Cuyahoga County, Ohio, listed King Charles and his wife King Jeane. His occupation was listed as "Messenger in the Administration Offices"
The morning report of August 1, 1944 on page 2 shows his promotion from Private to Staff Sergeant.
The General Orders number 42 from September 16, 1944, listed: "Award of Purple Heart: Sergeant Charles T. King, 35516666, Infantry, United States Army, for wounds received in action on 22 July, 1944, in France".
The morning report of October 30, 1944 shows him as missing in action on October 25, 1944, but S/Sgt. Charles King was Killed in Action on October 25, 1944. The AAR from the 329th Infantry Regiment from October 1944 listed on October 25: "A 5 man patrol of Company C hit a mine in a house in Grevenmacher. All 5 men were casualities."
If somebody has some more information on Charles T. King please don't hesitate to contact me!!
Sources:
1930 and 1940 Census (with thanks to John Bifano)
aad.archives.gov
Morning Reports for August 1944 from Co. C, 329th Infantry Regiment
Morning Reports for October 1944 from Co. C, 329th Infantry Regiment
General Orders number 42 from September 16, 1944
After Action Report for October 1944 from the 329th Infantry Regiment